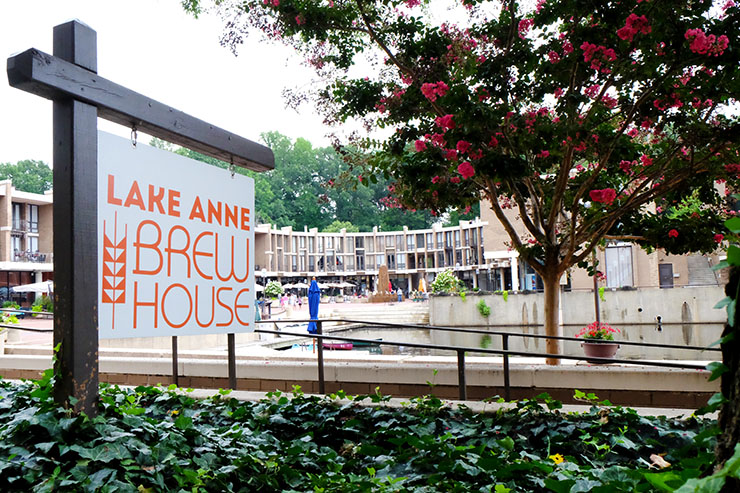 Craft breweries — the American version of a neighborhood pub — are as hot as coffee shops, and I'm thrilled to have a new one at Lake Anne Plaza in Reston. The LAKE ANNE BREW HOUSE embodies everything that is romantic and wonderful about a small business. It has a product the community has been craving; it has committed owners who want to create the best brew house possible while fostering community; it is sited in a place that needs more of both of those things.
What they do: LAKE ANNE BREW HOUSE sells its small-batch, hand-crafted beers directly to loyal customers from our nano-brewery taproom. You won't find this (delicious) beer anywhere else… unless you take a growler home with you.
Since the day the LAKE ANNE BREW HOUSE opened in May, Restonians have made sure they have a difficult time keeping the brews in stock.
The owners are a husband and wife team — Jason and Melissa Romano. Jason is no newcomer to this craft — in fact, he has received accolades for many of his signature recipes. The BREW HOUSE is a way to scale production to meet the demands of a growing craft beer drinking market.
Melissa is an Architect and designer, and that is obvious the minute you walk through the front doors. The space is beautiful.
Jason and Melissa have a shared goal: to provide an inviting location for the community to gather and appreciate a hand-crafted selection of exceptional beers.
And what, exactly, are those beers? Their flagship brews are Live-Work-Play IPA, Reston Red, Brown's Chapel Brown Ale, Lake Anne Skinny Dip Kolsch, and Simon's Stout. Due to their small capacity, they may run out of a listed beer before they have a chance to update their website or Facebook page. So, really, you just need to be there when they open on Thursdays to make sure you can get what you want.
Did I mention the patio? Yes, they have a great one right on the lake. There are few nicer ways to spend a gorgeous summer evening that with friends supporting a local, small business.
Their hours of operation are Thursdays 4pm – 10pm, Fridays 4pm – 11pm, Saturdays 10am – 11pm and Sundays 12pm – 5pm. To find it, use your GPS to 11401 North Shore Dr., Reston, VA 20190. Then just walk to the plaza and head toward the sound of laughter.
Maybe I'll see you there?